Our Fall Conference Co-Hosts this year are Cathy Carruthers and Christie Hovey.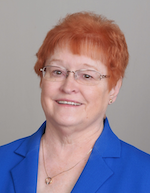 Cathy Carruthers is a retired professor of Office/Business Technology at Lewis & Clark Community College in Godfrey, Illinois. She taught five years at Marion High School and over 40 years at Lewis & Clark Community College. She has taught courses ranging from shorthand and typing to Microsoft Office, legal office, and medical office courses. She developed and implemented curriculum for Computer Graphics, Web Design, Paralegal, Medical Assisting, and Medical Coding programs.
Her passion for business education and career and technical education let her to being active in professional organizations and advocating for CTE. She has served as president of SWABEA, IBEA, NCBEA, and served on the NBEA Board. In addition to being an IBEA past president, Cathy served on the IBEA Board for 28 years and served on or chaired many task forces/committees, most recently chairing the IBEA Site Selection Task Force and serving on the Constitution and Bylaws Task Force. Cathy served as chair of the 2021 and 2022 NBEA Convention Program Committees and continues to serve on the committee this year as well as on NBEA's Legislative Committee. She has served on the IACTE Board in several capacities over the years and is currently the retired liaison to the IACTE Board and IACTE conference secretary. She also now serves on the State University Annuitants Association Board.

Cathy encourages each of you to get involved in your professional business education and CTE organizations. The information, resources, and knowledge you glean is invaluable to you as a business educator. Participating gives you a chance to develop opportunities and leadership skills. BUT – there is nothing that compares to the relationships and friendships you develop working with professionals from all over Illinois and the United States.

Cathy celebrated her 50th wedding anniversary in September. She enjoys time with her son, daughter-in-law, and three granddaughters. She is blessed to still have both parents and frequently goes to Marion to be with them. Her happy place is Sanibel Island, Florida, to which she and her family have been vacationing for over 30 years.
---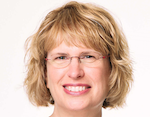 Christie Hovey is a business professor in the Social Sciences and Business Department at Lincoln Land Community College where she has taught and coordinated a variety of computer application, office technology, and business courses full-time since 1997 and part-time since 1993. She has been teaching for over 30 years—starting as a substitute teacher at Hoopeston-East Lynn High School and an adjunct faculty member at Danville Area Community College. Her first full-time teaching job was at Jacksonville High School, where she also revitalized their FBLA program. Christie is a pioneer in the Illinois Virtual High School, created in 2001. She has worked as a corporate training consultant for Fortune 500 companies, as well as for state government and small businesses. Additionally, she has co-authored two Microsoft Office textbooks for Pearson Education and one for Labyrinth Learning, as well as authored "Human Resource Management" and "Organizational Structures" in McMillan Publishing Company's Encyclopedia of Business and Finance. She has presented computer technology and teaching/learning topics around the U.S.
She has a bachelor's degree in Education from Illinois State University (business education major/business administration minor), a master's degree in Education/Human Resource Development from the University of Illinois at Urbana-Champaign (UIUC), an M.B.A. from Capella University, and is A.B.D. in Education/Community College Leadership from UIUC.
Currently, Christie serves on the IBEA Program Planning Committee and NBEA Awards Committee, and as her MIBEA affiliate president (since 2011). She has served IBEA in various capacities including President from 2017-2018, conference presenter, session chair, Site Selection Committee member, Scholarship Review Ad Hoc Chair from 2016-2017, Board Member-at-Large, and Awards Chair. She is the recipient of the IBEA Writers' Hall of Fame Award in 2015 and 2016. She is a member of IBEA, MIBEA, NCBEA, NBEA, and IACTE and a past member of ACTE, ASTD, DPE, and Pearson CITE. Christie served on the IAI Business Transfer Panel from 2013-2016 and as the New Skills for Youth (NSFY) Initiative - Illinois Cross-Sector team representative in 2016.
Actively involved in her community, Christie resides in Springfield with her husband, son, and dog. She is an elder at her church and volunteer/past board member of several area non-profits.