Most business professionals will agree that the events of this past year have placed an increased focus on the need for more social justice, equity, and accessibility both in businesses and the educational institutions that prepare students for working within them. The Illinois Business Education Association (IBEA) is stepping up to the challenge with its 2021 Fall Conference on Thursday, November 4 and Friday, November 5, 2021. In light of the many yet unknowns concerning COVID protocols for this fall, the IBEA Board determined that again this year, our conference will be virtual.
The theme for the 2021 conference is IBEA: Inclusivity, Belongingness, Equity, and Accessibility - Adding Cultural Fluency to Your Briefcase.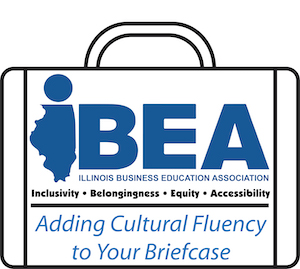 IBEA is the leading Illinois professional organization with the mission of providing needed programs, resources, publication, and services to its membership and presenting a unified voice on behalf of business educators in Illinois as well as throughout the nation. We understand the responsibility we hold to help assure that business educators are equipped to prepare our students for the real-world of work. Issues related to Inclusivity, Belongingness, Equity, and Accessibility as well as social justice have created an urgency for our education and business professionals to be equipped with the knowledge and tools they need to examine their own implicit biases and their institutions' structures and policies that serve to perpetuate systemic racism and that act as barriers for some students as well as current and future employees.
Our conference will start Thursday, November 4 in the morning and will continue through the day. Then, we will pick up again Friday, November 5 in the morning and will continue through lunch time. updates will be made throughout the summer, so continue checking IBEA's web and social media sites.
The 2021 Conference Registration fees will remain the same as last year's. What a great value for all the information and skills you will gain by attending.
Early Registration Deadline - October 8, 2021
(Professional Members: $75 / Non-Members: $175)
After the Early Registration deadline, the price will increase by $20 per person. 
Regular Registration - After October 8, 2021
(Professional Members: $95 / Non-Members $195) 
Student IBEA Members and Retired IBEA Members: Free 
To bring this vital professional development opportunity to our business and other educators, administrators, and staff while keeping attendees' costs to a minimum so more are reached, we are partnering with the following experts:
Brittany Boston, Associate Director of Equity at Illinois Center for Specialized Professional Support (ICSPS)
Meg Bucaro Wojtas, Meg Bucaro Communications
Dorian Earl, Founder of Development Consulting Partners
Traci Ellis, J.D., SHRM-SCP, Chief Human Resources Officer, Chief Equity Officer, Chief Legal Officer at Illinois Math and Science Academy
Jillian Havard, Founder of High Gloss
Mae Hicks-Jones of Amaezing 1 Consulting, former VP at Northern Trust
Aime'e Julian, Director at ICSPS
Jason Tanner, IBEA member, Professor of Business at John A. Logan College
Jemel A. Townsend, M.Ed.| Director of Title IX Coordination, Office of Student Protections and Title IX | at Chicago Public Schools
Brittney Walker, College and Career Readiness Specialist, Educational Events and Travel Coordinator at Brittney Walker Consulting LLC.
Toya Webb, Chief Marketing and Communications Officer at Elgin Community College, Certified Professional Coach. TEDx Speaker, Diversity & Inclusion Committee, Public Relations Society of America (PRSA), & Diversity, Equity and Inclusion Committee, National Council for Marketing & Public Relations
April Wells of Well Suited Solutions, author of Achieving Equity in Gifted Programming: Dismantling Barriers and Tapping Potential
Janet Yang Rohr, 41st District, former head of Managed Investment Data at investment and research firm, Morningstar in Chicago; Naperville District 203 School Board member, 2017-2021
Bill Wooditch, creator of multi-million dollar company, Wooditch Enterprises, speaker and author of Wall Street Journal bestseller, "Fail More" and "Always Forward."
More presenters will be joining us at the convention in November. Perhaps you or someone you know has something interesting and important to share related to the conference theme and business education. Timing is critical for addressing these important topics. Help us provide the knowledge and skills our professionals need as they educate the next generation of business leaders and business educators. Please complete the Call for Presenters by Sunday, September 5, 2021. We especially looking for workshops presented through a business and/or educational lens and in relation to one or more of the following business-related areas:
Accounting/Finance
Entrepreneurship
Management
Marketing
Technology
For more information, please contact Susan Timm, the 2021 Conference Chair and 1st VP, at This email address is being protected from spambots. You need JavaScript enabled to view it. or 630-712-0372 (calls or text).