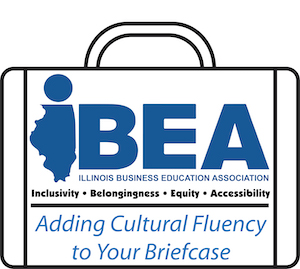 Most business professionals will agree that the events of this past year have placed an increased focus on the need for more social justice, equity, and accessibility both in businesses and the educational institutions that prepare students for working within them. In light of the many yet unknowns concerning COVID protocols for this fall, the IBEA Board determined that again this year, our conference will be virtual.
The 59th Annual IBEA Virtual Fall Conference will be held on November 4, and 5, 2021. Presenters include Secondary Teachers, Community College Instructors, University Professors and other educators who share innovative programs, strategies, and technology tools that have been successful in their classrooms.
In addition, business professionals will provide insights into what students need to know to be competitive as well as provide resources that you can use with your students. Join us and take back fresh ideas for your classes.
The theme for the 2021 conference is IBEA: Inclusivity, Belongingness, Equity, and Accessibility - Adding Cultural Fluency to Your Briefcase. 
IBEA is the leading Illinois professional organization with the mission of providing needed programs, resources, publication, and services to its membership and presenting a unified voice on behalf of business educators in Illinois as well as throughout the nation. We understand the responsibility we hold to help assure that business educators are equipped to prepare our students for the real-world of work. Issues related to Inclusivity, Belongingness, Equity, and Accessibility as well as social justice have created an urgency for our education and business professionals to be equipped with the knowledge and tools they need to examine their own implicit biases and their institutions' structures and policies that serve to perpetuate systemic racism and that act as barriers for some students as well as current and future employees.
Our conference will start Thursday, November 4 in the morning and will continue through the day. Then, we will pick up again Friday, November 5 in the morning and will continue through lunch time. updates will be made throughout the summer, so continue checking IBEA's web and social media sites.
The 2021 IBEA Conference offers a variety of professional development opportunities . . .
Featured Speakers will once again highlight our conference.
Business and Education Experts will present on topics related to our conference theme. 
Certiport Certification sessions
Individuals will be able to test and earn certification at the 2021 IBEA Fall Conference. Participants testing will receive a sample practice test prior to the conference. Space will be limited—Register early to reserve your exam.
Numerous Break-Out Sessions
Related to the latest trends in business and technology for your classroom including Google, Entrepreneurial skills, marketing, etc. 
PD credit for each session attended will be available at this year's conference.
Networking opportunities
Network with fellow business educators and future educators to learn about new technologies and new classroom techniques
Conference Early Registration deadline is October 8, 2021. After October 8, 2021, an additional fee will be added to any registrations made after that date.
Make your plans today to attend the 2021 IBEA Fall Conference.