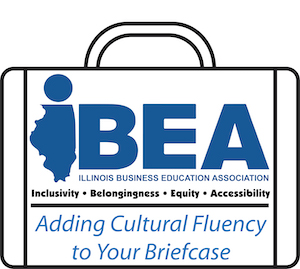 The events of the past few years have shone a light on the need for more inclusivity, belongingness, equity, and accessibility both in business and the educational institutions that prepare students for careers and life! We realize that our business educational professionals should be equipped with the knowledge and tools they can use to help students overcome obstacles and barriers.
It is our responsibility as business educators to facilitate student success. Thus, the 2021 IBEA Fall Conference on November 4-5 is focused on Adding Cultural Fluency to Your Briefcase to provide resources and information for our teachers to move forward with increased awareness.
With the still uncertain COVID protocols that might be in place for this fall, the IBEA Board determined that a virtual conference format is best. We will be using Zoom as our platform.
To bring lively and relevant workshops related to Inclusivity, Belongingness, Equity, and Accessibility as well as our traditional business subjects, we have partnered with experts across Illinois and beyond.
The two-day program is structured to include a full day on Thursday, November 4, and a half-day on Friday, November 5. IBEA will offer five spotlight speakers, six break-out sessions, and interactive workshops aimed at our traditional business related tracks:
Accounting/Finance
Marketing
Entrepreneurship
Technology
Management
Professional Development
New this year is the Professional Development track for workshops related to teaching and learning, especially in relation to the conference theme.